SANTA CRUZ DO SUL - BRAZIL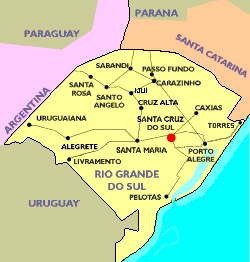 Located in Rio Grande do Sul, the southernmost state of Brazil, Santa Cruz do Sul is about 1,200 kilometers south of São Paulo, and has a population of nearly 100,000 inhabitants in the city and about 12,000 in the rural area.
Santa Cruz, the Portuguese word for holy cross, started as a German immigration center in 1849, and today one can still find people speaking German in the countryside. The city tends to be slightly different than the typical images that foreigners have of Brazil. In a century and a half it has become an interesting blend of German culture with the local gaucho culture that sprouted from the earlier Portuguese and Spanish settlements in this native South Americans' land known as pampas.
Because of the European immigration and due to a strong presence of multinational companies as well as efficient language teaching, the percentage of multilingual people is slightly higher than other regions in Brazil.
Rather prosperous and safe compared to other Brazilian cities, Santa Cruz is 100 miles (160 km) to the west of Porto Alegre, the largest city of the state, its capital, and the nearest commercial airport. The main economic activity of Santa Cruz is field production, processing and exporting of leaf tobacco. Rio Pardo Valley, the region of which Santa Cruz is the main center, is Brazil's largest tobacco-producing area, contributing to Brazil's status as the world's largest exporter of tobacco. During harvest time, the tobacco industry employs more than 9,000 workers to process 380,000 tons of leaf tobacco. There is also a cigarette factory, which generates a significant amount of tax money. Other industries are clothing, corn seed production, food, machinery, and rubber.
Santa Cruz do Sul is also becoming an important educational center. It is home to UNISC (University of Santa Cruz - Total enrollment: 5,200 - Faculty: 260), and S&K-ESL, an independent language institute running a unique Brazilian Language and Culture Program, and maintaining English Made in Brazil, an educational project on Internet and the most influential ESL website in Brazil. S&K is associated with ESL organizations in the USA, Canada and England, and is the sponsor of this page.
A visit to the museum on the main street pays off in providing information on the history of the region since before the Portuguese arrived.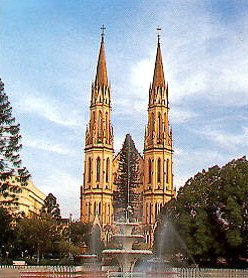 Tourism has also become an important activity in the 1990's. Slowly, visitors find more and more attractions in Santa Cruz do Sul. Apart from the natural beauty of the parks and cobblestoned streets, the city has remarkably handsome buildings. The downtown is a especial delight for visitors. It is a safe place to take leisurely walks, by day or evening. The main street is lined with trees that provide shade and beauty. Many restaurants and ice cream parlors have outside tables where visitors and residents alike enjoy attentive service in a relaxed, small-town atmosphere.
Foreigners' delight is the several churrascarias - steak restaurants serving vast quantities of juicy barbecued beef, pork and chicken at very inexpensive prices. Vegetarians will find good options including a Chinese restaurant and an excellent pasta restaurant.
Every evening and especially on weekends you can walk along Imigrante Avenue where young people gather to listen to all kinds of music from their car stereos, drink the popular maté tea or beer, and flirt.
Special attention deserves the "Parque da Gruta", a natural park located at a walking distance from downtown, with a beautiful camping area, an excellent restaurant, a water fountain, a pond, a mini zoo with native species, and a cave. A half-an-hour walk from the park upstream into the woods will lead you to a beautiful waterfall.
Santa Cruz is home to Fingerhut, one of the finest Brazilian cachaças. Cachaça is a drink made of distilled sugarcane juice. The Fingerhut cottage industry is located just a 20-minute scenic drive into the countryside of the municipality. Oxen help in the sugarcane harvesting and the spirit is aged in oak barrels at least one year before being offered to visitors.
By October, the city bursts into activity with Oktoberfest, a 10-day dancing and beer-drinking festival and, right after, in early November, ENART, a gaucho folk music and dance festival provide unforgettable experiences. Basketball and soccer sometimes provide thrilling events, while Santa Cruz Country Club has one of the most beautiful golf courses in southern Brazil.
Climate: Situated at latitude 29º 43' south and 122 meters above the sea level, the climate is temperate subtropical with an average temperature of 19ºC, ranging in average from a minimum of 5ºC to a maximum of 42ºC. It rains between 100 and 126 days a year and total rainfall is between 1300 and 1800 mm yearly.
---