ESCOLAS DE INGLÊS NO REINO UNIDO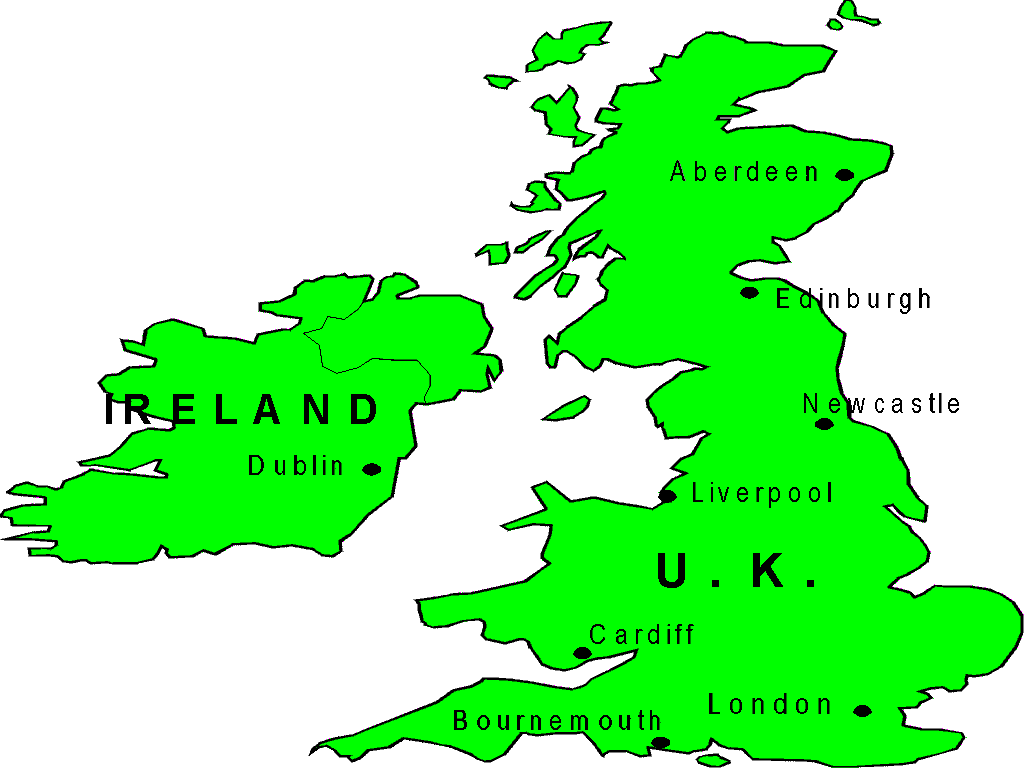 ---
The United Kingdom of Great Britain and Northern Ireland occupies most of the islands of the British Isles group. It has four main parts: England, Wales, and Scotland, which form the island of Great Britain, and Northern Ireland. The population of the United Kingdom is today around 57 million.
---
U.K. (ENGLAND, WALES, SCOTLAND, NORTH IRELAND)
Aberdeen Centre for English
68 Polmuir Road
Aberdeen (Scotland) AB1 2TH
UK




Aberdeen College
Gallowgate
Aberdeen (Scotland) AB9 1DN
UK

Linguarama Ltd.
Oceanic House
89 High Street
Alton (Hants) GU34 1LG
UK

Heathfield Summer School
Ascot (Berkshire) SL5 8BQ
UK

Barry College
Colcot Road
Barry (Wales) CF6 8YJ
UK

Queens Park School of English
25 Seafield Close
Barton-on-Sea
New Milton, Hamshire BH25 7HR

Bailbrook College
39 London Road West
Bath (Avon) BA1 7JD
UK

Bridge International School of English
3 Bennett Street
Bath (Avon) BA1 2QQ
UK

Canning School, Bath
1 Brock Street
Bath (Avon) BA1 2LN
UK

LTS Training and Consulting
5 Belvedere, Lansdown Road
Bath BA1 5ED
UK

Tel: 01225-448148
Short courses for professional people, including 1-1, small groups and company groups. Accommodation with host families or in hotels. Also regular courses for teachers of business English leading to LCCI Cert TEB qualification.

Merrion House Centre for English Studies
Penn Road
Beaconsfield HP9 2LS
UK

King's School of English
25 Beckenham Road
Beckenham (Kent) BR3 4PR
UK

Bedford College
Polhill Avenue
Bedford MK41 9EA
UK

Bedford Study Centre
94-96 Midland Road
Bedford MK40 1QE
UK

The Queen's University of Belfast
TEFL Centre
Belfast BT7 1NN
Northern Ireland
UK

Fax: 01232 - 335379 / Tel: 01232 - 335373
E-mail:T.RIDGWAY@qub.ac.uk
General English For Adults, Business English. Course for English Teachers, International Marketing, Computer-Aided Design with English, English and Golf Activity Holiday, Intensive Irish Studies, Autumn Intensive English, Pre-Sessional English for Academic Purposes, Individual Tuition, Accommodation.

Brasshouse Centre
50 Sheepcote Street
Birmingham B16 8AJ
UK

Linguarama Ltd.
New Oxford House
16 Waterloo Street
Birmingham B2 5UG
UK

Oaklands College
Elstree Way
Borehamwood WD6 1JZ
ENGLAND

Beet Language Centre
Nortoft Road
Charminster
Bournemouth (Dorset) BH8 8PY
ENGLAND

Tel: +44 (1202) 397721/397609 / Fax: +44 (1202) 309662
Email: chus@beet.co.uk

Bournemouth Business School International
Avon House
26 St Peter's Road
Bournemouth (Dorset) BH1 2LW
ENGLAND

Fax: +44 1202 780888 / Tel: +44 1202 780777
E-mail: info@bbschool.co.uk
Courses designed for students with good Intermediate English.

Bournemouth International School

711-713a Christchurch Road

Bournemouth (Dorset) BH7 6AF

ENGLAND

Dorset English Language Institute

Wessex House

9-11 Gervis Place

Bournemouth (Dorset) BH1 2AL

ENGLAND

Eurocentre, Bournemouth

26 Dean Park Road

Bournemouth (Dorset) BH1 1HZ

ENGLAND

Europa School of English

Europa House

214 Old Christchurch Road

Bournemouth (Dorset) BH11PE

ENGLAND

Fax: 01202 316688 / Tel: 01202 316622

Interlink School of English

126 Richmond Park Road

Bournemouth (Dorset) BH8 8TH

ENGLAND

International Language Academy - Bournemouth

Hinton Chambers

Hinton Road

Bournemouth (Dorset) BH1 2EN

ENGLAND

International Teaching and Training Centre

674 Wimborne Road

Bournemouth (Dorset) BH9 2EG

ENGLAND

King's College of Further Education

31 Poole Road

Bournemouth (Dorset) BH4 9DL

ENGLAND

King's Group of English Language Schools

58 Braidley Road

Bournemouth (Dorset) BH2 6LD

ENGLAND

MLS International College

8 Verulam Place

Bournemouth BH1 1DW

ENGLAND

43-45 Wimborne Road

Bournemouth (Dorset) SP1 1QW

ENGLAND

Fax: 01202 555874 / Tel: 01202 555932

Broad range of English Language courses and specially in Business Communication and Teacher Refresher Courses

22 Church Road

Bournemouth BH64AT

Tel +44-1202-428252 / Fax +44-1202-428926

Bradford & Ilkley Community College

English Language Centre

6E Westbrook

Great Horton Road

Bradford BD7 1AY

UK

Fax: 01274 741553 / Tel: 01274 753207

Eleven English Courses including specialist English and English for Academic Purposes, International Foundation Courses, Summer Schools and Teachers' Courses

EF International School

1 Sussex Square

Kemptown

Brighton BN2 1FJ

UK

Eurocentre, Brighton

20 North Street

Brighton BN1 1EB

UK

House of English

24 Portland Place

Brighton BN2 1DG

UK

25 St John's Road Clifton

Bristol BS8 2HD

UK

Fax:+44 117 973 8696 / Tel::+44 117 973 0354

E-mail: abon@dial.pipex.com

English Language + Social Programme. Homestays NEAR school. Cambridge FCE, CAE, CPE, PET, Oxford & other exams. Teachers courses. Founded 1973. Beautiful city - fewer foreigners

Filton College Bristol International Students Ctr.

Filton Avenue

Bristol BS12 7AT

UK

Fax: 0117 931 2637 / Tel: 0117 931 2121

General EFL courses designed to increase fluency and improve fluency and to prepare for major EFL exams. Also EFL plus variety of vocational subjects; summer, teacher, tailor made

27 Oakfield Road, Clifton

Bristol BS8 2AT

UK

Brunel College of Technology and Art

Ashley Down

Bristol BS7 9BU

UK

Living Learning English

71 Sefton Park Road

Bristol, BS7 9AN

UK

Tel: 0117 9098324

Homestay Organisation

Live with your teacher. Learn English successfully, intensively & rapidly. Total immersion, one-to-one tuition, visits & excursions in a lively historic city. All ages & levels. Courses designed exclusively for you.

Hilderstone College

St Peter's Road

Broadstairs CT10 2AQ

UK

Fax: 01843 603877 / Tel: 01843 869171

Long and Short Courses for Adults All Year - Quality at a Moderate Price.

Bromley School of English

2 Park Road

Bromley BR1 1HP

UK

Fax: 0181 313 3957 / Tel: 0181 313 0308

Courses at a wide range of levels with the accent on active practice. Classes are multinational with a maximum of 12 students. Wide range of course options

65 High Street

Girton

Cambridge CB3 0QD

UK

Fax: +1223 277606 / Tel: +1223 277230

Small groups in friendly but hard-working, international atmosphere. Emphasis on communication skills and on contacts with local English-speaking environment

Cambridge Centre for Languages

Sawston Hall

Cambridge CB2 4JR

UK

Cambridge School of Languages

119 Mill Road

Cambridge CB1 2AZ

UK

Dept 345 (office), 48 Regent Street

Cambridge CB2 1FD

UK

Tel/Fax: +44 (0)1223 504253

Email: camlawstudio@lawyer.com

EF International School

221 Hills Road

Cambridge CB2 2RW

UK

Eurocentre, Cambridge

62 Bateman Street

Cambridge CB2 1LX

UK

International Language Academy - Cambridge

12-13 Regent Terrace

Cambridge CB2 1AA

UK

Newnham Language Centre

8 Grange Road

Cambridge CB3 9DU

ENGLAND

New School of English

52 Bateman Street

Cambridge CB2 1LR

UK

6 Salisbury Villas Station Road

Cambridge CB1 2JF

UK

Fax: +44 1223 314 944 / Tel: +44 1223 369 701

A wide range of General and Specialist Adult courses throughout the year and Junior (10-17 yrs) summer programmes Family, Residential and Hotel accommodation

The Bell Language Schools

Hillscross, Red Cross Lane

Cambridge CB2 2QX

UK

Fax: 01223 410282 / Tel: 01223 212333

English language courses for adults available at our schools in Bath, Cambridge, London, Norwich and Saffron Walden. English language courses for young learners available at 10 high-quality centres throughout Britain

Canterbury, Christ Church College

North Holmes Road

Canterbury CT1 1QU

ENGLAND

Canterbury Language Training

73-75 Castle Street

Canterbury CT1 2QD

ENGLAND

Concorde International

Arnett House

Hawks Lane

Canterbury CT1 2NU

ENGLAND

Fax:01227 762760 / Tel: 01227 451035

Specialist Language and Business Training for Executives and Management Personnel; Recognised

Courses for Native speakers & O'seas Teachers.Vacation Courses for Adults & Young people

Orchard Street

Canterbury (Kent) CT2 8BF

ENGLAND

8/9 Oaten Hill

Canterbury, CT1 3HY

ENGLAND

Centre for English Language Teaching

3 Foster Drive

Penylan

Cardiff CF3 7BD

UK

Institution: Interlingua-Jersey

Sunnyfield, La Rocque, JERSEY

Channel Islands, JE3 9SG

UK

Tel: +44 (0)1534 852590

Description: General English and Business English. Tuition by motivated teachers. Small groups (max.6) or one-to-one. Personal attention. Excellent seaside location offering interesting range of activities. Optional London tour.

Fullwood Park

Suffolk Square

Cheltenham GL50 2EB

UK

GLOSCAT - Gloucester College of Arts & Technology

73 The Park

Cheltenham GL50 2RR

UK

Fax: 44 1242 532023 / Tel: 44 1242 532144

Situated in one of England's most attractive towns, GLOSCAT has the resources of a dynamic state college. Experienced teachers develop skills in a relaxed, serious atmosphere

Inlingua Cheltenham

Buckingham House

Wellington Street

Cheltenham GL52 1XY

UK

English in Chester

9/11 Stanley Place

Chester CH1 2LU

UK

English Language Systems

The Old Rectory

Church Lane North

Old Whittington

Chesterfield S41 9QY

UK

Essex House School of English

4 Church Road

Clacton-on-Sea CO15 6AG

UK

Colchester Institute

Sheepen Road

Colchester CO3 3LL

UK

Fax: +44 1206 763 041 / Tel: +44 1206 761660

General English plus options, including Business English, exam preparation and access to other college courses

19 Lexden Road

Colchester CO3 3PW

UK

Fax: 01206 761849 / Tel: 01206 544422

Email: cesc@compuserve.com

All year adult, junior and adult summer, vacation, specialist courses, teacher training, consultancy

Cheney Court

Ditteridge

Corsham (Wilts) SN14 9QF

UK

Tel: (01225) 743557

Fax: (01225) 743916

E-mail: info@linguarama.com

Residential English in England programme for business people

Coventry International English Studies Centre

9 Priory Row

Coventry CV1 5EX

UK

Coventry Technical College

Meridian Tesol Centre

Butts

Coventry CV1 5EX

UK

Harper School of English

7 Warwick Row

Coventry CV1 1EX

UK

Henley College Coventry

Henley Road, Bell Green

Coventry CV2 1ED

UK

Fax: 01203 611837 / Tel: 01203 611021

Full time courses in General English including preparation for FCE, CAE and other major exams

English Language and Equestrian Centre

Friars Gate Farm

Marden Hill

Crowborough TN6 1XH

UK

17-20, George Street

Croydon, CR0 1LA

UK

Dundee College

Blackness Road

Dundee DD1 5UA

UK

Dundee College

30 Consitution Road

Dundee DD3 6TB

UK

Fax: 01382 322286 / Tel: 01382 834898

Eastbourne College of Arts and Technology

St Annes Road

Eastbourne BN21 2HS

UK

Eastbourne School of English

8 Trinity Trees

Eastbourne BN21 3LD

UK

Fax: + 44 1323 639271 / Tel: + 44 1323 721759

General English courses, Cambridge examination courses, teacher training courses for native and non-native

speakers of English, courses for retired people

LTC International College of English

Compton Park

Compton Place Road

Eastbourne BN21 1EH

UK

Meads School of English

2, Old Orchard Rd.

Eastbourne (East Sussex) BN21 1DB

UK

Tel: 01323 734335

Intensive ESL Courses all year. Examination prep. for Oxford, Cambridge and Arels Exams. Multimedia. Residential, Internet and student email.

12 Eversfield Road

Eastbourne, East Sussex BN21 2AS

UK

50 / 51 Norfolk Square

East Sussex BN1 2PA

UK

Basil Paterson School of English

21/22/23 Abercromby Place

Edinburgh EH3 6QE

UK

271 Canongate

The Royal Mile

Edinburgh EH8 8BQ

UK

Fax: 44 0131 557 9192 / Tel: 44 0131 557 9200

Email: mail@edinschl.co.uk

Adult courses for business, examinations and leisure; tailor made courses for individuals and groups.

Vacation courses for juniors and adults with activity / cultural programmes

Edinburgh Tutorial College

29 Chester Street

Edinburgh EH3 7EN

UK

Fax:0131 225 2133 / Tel: 0131 225 9888

Year round and Vacation Courses for Adults. Summer School for Teenagers. General and Executive Courses. Teacher Training. Own College Residence

Randolph School of English

13 Randolph Crescent

Edinburgh EH3 7TT

Tel: 0131 662 8493 / Fax: 0131 662 8493

Email: randolphse@aol.com

Small, select and Scottish summer school situated in the city centre, offering general English and business courses as well as teacher training

Stevenson College

Bankhead Avenue

Sighthill

Edinburgh EH11 4DE

ENGLAND

Hamilton School of English - Edinburgh

Capielaw

near Rosewell (Midlothian) EH24 9EE

UK

English Homestay Tuition and Guardians

Church House

Welshampton

Ellesmere (Shropshire) SY1Z OPH

UK

Fax: 01948 710446 / Telephone: 01948 710446

Email: 100757.2252@compuserve.com

One-to-one intensive English courses. Live in teacher's home. All ages. All levels. All year round. Locations across the UK. Also boarding school finding service for full-time students

North East Surrey College of Technology

Reigate Road

Epsom & Ewell (Surrey) KT17 3DS

UK

about 12 miles to the southwest of London

English in Exeter

42 Longbrook Street

Exeter EX4 6AE

UK

Exeter Academy

64 Sylvan Road

Exeter EX4 6HA

UK

Globe English Centre

31 St Davids Hill

Exeter EX4 4DA

UK

Globe English Centre

71 Holloway Street

Exeter EX2 4JD

UK

Fax: (0)1392 427559 / Tel: (0)1392 71036

1 Mount Radford Cescent

Exeter EX2 4EW

UK

P.O. Box 15

4-5 Mount Radford Crescent

Exeter EX2 4EN

UK

Devon English Centre

1 Victoria Road

Exmouth EX8 1DL

UK

Campana Finishing School

Moor Park House

Moor Park Lane

Farnham GU9 8EN

UK

Concorde International Study Centre

22/24 Cheriton Gardens

Folkestone CT20 2AT

UK

Fax: 01303 220538 / Tel: 01303 256752

English Language Courses for Students, Young Professionals and Teachers. Group programmes on

request

Living Language Centre

Highcliffe House

Clifton Gardens

Folkestone CT20 2EF

UK

Multi Lingua

St Michael's House

53 Woodbridge Road

Guildford GU1 4RF

ENGLAND, UK

Harrogate Language Academy

8a Royal Parade

Harrogate HG1 2SZ

UK

Harrogate Tutorial College HTC

2 The Oval

Harrogate HG2 9BA

UK

Greenhill College

Lowlands Road

Harrow HA1 3AQ

UK

EF International School of English

74-80 Warrior Square

Hastings TN37 6BP

UK

Hastings College of Arts & Tech/International Dept

80 St Saviours Road

St Leonards-on-Sea

Hastings TN38 0AR

UK

Hastings English Language Centre

St Helens Park Road

Hastings TN34 2JW

UK

International House, Hastings

White Rock

Hastings TN34 1LJ

UK

International Language Centres Group

International House

White Rock

Hastings (East Sussex) TN34 1JY

UK

ITS English School, Hastings

43-45 Cambridge Gardens

Hastings TN34 1EN

UK

Fax: 01424 438050 / Tel: 01424 438025

Email : itsbest@its-hastings.co.uk

General and special English courses with maximum 8 per class or one-to-one. They are carefully structured and are held for all levels from beginner to advanced

Bidbury House for English

Bidbury Lane

Havant P09 3JG

UK

English Country School

Lillesden Hastings Road

Hawkhurst (Kent) TN18 4QG

UK

Fax: +44 161 486 1824 / Tel: +44 161 486 1824

Email: 73064.2641@compuserve.com

± US$650/week

Residential English Language and activity summer school for children, 8-16, Recognised by the British Council

29 Eddington Lane

Herne Bay (Kent) CT6 5TT

UK

The Old Rectory, Pyworthy

Holsworthy (Devon) EX22 2AS

UK

BESS - Brighton College of English and Special Studies

2 Osmond Road

Hove BN3 1TE

UK

Brighton & Hove School of English

7-9 Wilbury Villas

Hove BN3 6GB

UK

East Sussex School of English

19 Reynolds Road

Hove BN3 5RJ

UK

English Language Centre, Hove

33 Palmeira Mansions

Hove BN3 2GB

UK

Fax: 01273 720898 / Tel: 01273 721771

Email: elc@pavilion.co.uk

General, Business and Specialist English Courses for adults available throughout the year. Cambridge exam courses twice a year & Summer Vacation Courses from June to September

Geos English Academy

55-61 Portland Road

Hove BN3 5DQ

UK

Language Studies International

13 Ventnor Villas

Hove BN3 3DD

UK

Mayfield College of English

24 Holland Road

Hove BN3 1JJ

UK

Wayland House

61 Western Road

Hove BN3 1JD

Tel: +44 (0)1273 718009 / Fax: +44 (0)845 0750752

Huddersfield Technical College

New North Road

Huddersfield HD1 5NN

UK

Hull College

Queens Gardens

Hull HU1 3DG

UK

Channel School of English

Bicclescombe Park

Ilfracombe (North Devon) EX34 8JN

UK

Tel: +44 1271 862834 or 863304 / Fax: +44 1271 865374

Courses for all levels, specialising in Junior Summer School programmes in Ilfracombe & Barnstaple. Courses consist of integrated tuition, sea sports, activities & excursions

30-34, Finch Road, Douglas,

Isle of Man IM1 2PS

GREAT BRITAIN

10 Maple Road

Garstang

Lancashire PR3 1WN

UK

International Language Institute

County House

Vicar Lane

Leeds LS1 7JH

UK

Headingley Station

Kirkstall Lane

Headingley

Leeds LS5 3LD

West Yorkshire GREAT BRITAIN

Irwin College

164 London Road

Leicester LE2 1ND

UK

Lewes College

Mountfield Road

Lewes BN7 2XH

UK

Fax:44-1273 478561 / Tel: 44-1273 483188

English language 16 hours/week plus another subject 6 hrs/wk Other subjects are additional English, Art+Design, Travel + Tourism. Also GCSEs, A levels, Business, Secretarial + exams

6th Floor, Russell Building, School Lane

Liverpool L1 3BT

U K

Tel: ++44-(0)151-708-7071 / Fax: ++44-(0)151-707-1919

E-mail: courses@eurolang.com

146 Church Road

London SE19 2NT

UK

Fax: 0181 653 9667 Tel: 0181 653 7285

* General English * JUNIOR VACATION * Intensive * English & Golf * SUPERINTENSIVE * English & Theatre * Examination * ONE-TO-ONE * TOEFL * Christmas

Answer English
19 Bryanston Mews West
London W1H 2BW
UK

Burlington School of English
Ebc House
1 Ranelagh Gardens
London SW6 3PA
UK

Cambridge School of English

8 Herbrand Street

London WC1N 1HZ

UK

Camden College of English

61 Chalk Farm Road

London NW1 8AN

England

Canning School, London

4 Abingdon Road

London W8 6AF

England

1 Tottenham Court Road

London W1P 9DA

England

Fax: 0171 255 1806 / Tel: 0171 580 2863

Email: efl@cselond.demon.co.uk

General English to adults (16 years+) in the heart of Central London. High quality tuition in a friendly, relaxed atmosphere. Library, Listening Centre & Coffee Bar

East London School of English
First floor , 154-170 Cannon Street Road
Whitechapel
London, E1 2LH
England

Tel: +44 207 265 8868

Email: info@elsenglish.com

Small groups, full time and part time courses for students aged 16 and over, all year round. Conveniently situated near 6 underground lines, is near to the financial heart of London and a short distance from The Tower of London.

Ebury Executive English

132 Ebury Street

London SW1W 9QQ

England

EF International School of English

74 Roupell Street

London SE1 8SS

England

ELS Language Centres

Dept. CF

Bellerive House

3 Muirfield Crescent, Mill Harbour

London E14 9SZ

England

Fax:0171 512 0640 / Tel:0171 512 0600

Email:bbrownlee@els.com

ELS Language Centres offers General, Exam and Business English in London and Richmond for adults and Summer programmes in Bristol and London for children

Eurocentre, Lee Green

21 Meadowcourt Road

London SE3 9EU

England

Eurocentre, Victoria

56 Eccleston Square

London

SW1V 1PQ

UK

Excel English Language School

North Bank House

28 Pages Lane

London N10 1PP

UK

195 Knightsbridge

London SW7 1RE

UK

Fax: +44+171 8380303 / Tel: +44 171 8380200

Email:info@fkse.ac.uk

http://www.fkse.ac.uk/

General English, Examination Preparation for Cambridge, TOEFL, IELTS, in groups of 8 or 15 students, from 15 to 32 hours per week, and specialised and one-to-one tuition

Frances King School of English

18 Dunraven Street

Park Lane

London W1Y 3FE

UK

Hammersmith and West London College

Dept. Of English Studies

Gliddon Road

Barons Court

London W14

UK

Central Square

London

NW11 7BN

UK

553 Finchley Road

Hampstead

London NW3 7BJ

UK

Fax: 0171 431 2987 / Tel: 0171 794 3533

http://www.edunet.com/hampstead-english/

Intensive English at all levels. Emphasis is placed on meeting individual students' needs within a class framework. Active social-cultural programme. Excellent accommodation

Hendon College

EFL Department

Montagu Road

London NW4 3ES

UK

International College

9 Palace Gate

London W8 5LS

UK

International Community School

4 York Terrace East

Regents Park

London NW1 4PT

UK

International House

106 Piccadilly

London

W1V 9FL

UK

International Language Academy - London

4 Russell Gardens

Holland Road

London W14 8EY

UK

Douglas House, 16-18 Douglas Street

Westminster, London SW1P 4PB

UK

Kingsway College

EFL Unit

Vernon Square Centre

Penton Rise

London WC1X 9EL

UK

21 Harrington Road

London SW7 3EU

UK

Fax: 0171 584 3518 / Tel: 0171 225 1065

http://www.edunet.com/ll.html

Courses in General English, Cambridge Exams, Individual, Business English and Teacher Training. Small groups may come together for Intensive Training.

Language Studies International

Heath House

13 Lyndhurst Terrace

London NW3 5QA

UK

Queen's House

8 Queen Street

London EC4N 1SP

UK

37 Golden Square

London W1R 3AA

UK

London Guildhall University

English Language Centre

Old Castle Street

London E1 7NT

UK

Fax: 0171 320 1251 / Tel: 0171 320 1251

General and English for Business courses held within Government funded university. Access to all university facilities. Teachers seminars available.

67-83 Seven Sisters Road

Holloway, London N7 6BU

UK

15 Holland Park Gardens

London W14 8DZ

UK

London Study Centre

Munster House

676 Fulham Road

London SW6 5SA

UK

1st Floor, 67-83 Seven Sisters Road

London N7 6BU

Tel: +44 207 561 0066 / Fax +44 207 561 0117

Email: marketing@tlsi.co.uk

Marble Arch Intensive English

21 Star Street

London W2 1QB

UK

Milner School of English

32 Worple Road Mews

Wimbledon

London SW19 4DB

UK

Metropole College

7 Praed Street

Paddington

London W2 1NJ

UK

Oxford House College

3 Oxford Street

London W1R 1RF

UK

Fax: ++ 171 323 4582 / Tel: ++44 171 580 9785

E-mail: oxhc@easynet.co.uk

General English classes have a maximum of only 8 students, good for rapid progress and a personal, productive learning environment

Bennet Court 1 Bellevue Road

London SW17 7EG

UK

36 New Oxford Street

London, WC1A 1EP

UK

Sels College

64-65 Long Acre Covent Garden

London WC2E 9JH

UK

Fax: 0171 379 5793 / Tel: 0171 240 2581

E-mail: 100651.3105@compuserve.com

English courses in small groups of 5 to 9 students and/or individual tuition from Beginners to Cambridge Proficiency

126 Boundary Road

London NW8 0RH

UK

Tel: +44 207 624 1925 / Fax: +44 207 328 6877

E-mail:

St. Patrick's International School

24 Great Chapel Street

London W1V 3AF

UK

Loughborough College (EFL Secretary)

Radmoor

Loughborough LE11 3BT

UK

Luton College of Higher Education

Park Square

Luton LU1 3JU

UK

Lydbury English Centre

Department CF The Old Vicarage

Lydbury North SY7 8AU

UK

Fax: +44 (0)1588 680334 / Tel: +44 (0)1588 680233

Email: enquiry@lydbury.co.uk

Total-immersion English Language Training for Business and Professional purposes. The complete cost-effective solution

Abbey College

251/3 Wells Road

Malvern Wells WR14 4JF

UK

Fax:+44 1684 892757 / Tel::+44 1684 892300

A residential co-educational (male and female) college situated on the beautiful Malvern Hills. EFL programmes for all ages throughout the year. Full academic programme based on the English system.

Eaton Hartley College

32 York Road

Sale

Manchester M33 1WU

UK

Educare College

Santaidd

Burnage Lane

Manchester M19 1DR

UK

Fax: ++ 44 161 443 2357 / Tel: ++44 161 4420858 Housed in a Victorian mansion in a suburb of Manchester. Courses leading to recognised examinations start on Mondays. Summer Courses, General and Intensive, include excursions

28-32 Princess Street

Manchester M1 4LB

UK

Tel: (0161) 228 3983

Fax: (0161) 236 9833

Manchester College of Arts & Technology (MANCAT)

Lower Hardman Street

Manchester M3 3ER

UK

Nord-Anglia International Ltd

Broome House

152 Palatine Road

West Didsbury

Manchester M20 8QH

ENGLAND

Fitzroy College

Northdown House

Margate CT9 3TP

UK

The Griffin Language Centre

28 Bank Road

Matlock DE4 3NF

UK

Fax: +44 (0)1629 584041 / Tel:+44 (0)1629 57951

Email: info@griflang.demon.co.uk

General English/Summer Vacation/Exam Courses - Adults/Juniors Open all year - Accommodation. Host-family/Groups Residential Excursions-York/Activities- Tennis, Art, Football, Hill-walking

Kirby College

Roman Road

Linthorpe

Middlesborough TS5 5PJ

UK

International House, Northumbria

14-18 Stowell Street

Newcastle-Upon-Tyne NE1 4XQ

UK

Newcastle College

Maple Terrace

Newcastle-Upon-Tyne NE4 7SA

ENGLAND

Clarendon College Nottingham

International Language Centre 11 Queen Street

Nottingham NG1 2BL

UK

Fax:(0)115 9506546 / Tel: (0)115 9553100

52a Deneside

Great Yarmouth

Norfolk NR30 2HL

UK

Tel and Fax: 0044 1493 331729

E-mail: info@homeofenglish.co.uk

Nene College

Moulton Park

Northampton NN2 7AL

UK

ELT Banbury

49 Oxford Road

Banbury

Oxford OX16 0AH

UK

The Burton's English Summer School

Suite 2, 4 Crick Road

Oxford OX2 6QJ

UK

Tel and Fax: 44 1865 512149

20 years' experience in providing English language holidays for juniors; high standard of care and supervision: all activities are fully supervised at all times and staff live on the premises; staff/student ratio 1:6; friendly family atmosphere suitable for younger students and those travelling away from home for the first time; students from more than 10 different countries; age group 10 - 16 years.

14 Friars Entry

Oxford OX1 2BZ

UK

Fax: ++ 44 1865 791869 / Tel: ++ 44 1865 721268

Email: english @eckersley.co.uk

Established school (1955) in the centre of Oxford. Year round General English courses at all levels for 16+, Cambridge Exam classes, English for Academic Purposes

Godmer House Oxford School of English

90 Banbury Road

Oxford OX2 6JT

UK

International Language Academy - Oxford

7 Norham Gardens

Oxford OX2 6PS

UK

King's St Joseph's Hall

Junction Road

Cowley

Oxford OX4 2UJ

UK

Lake School of English (Teachers' Co-operative)

14 Park End Street

Oxford OX1 1HW

UK

Fax:01865 251360 / Telephone:01865 724312

General and Specialist English Courses for Adults, in a centrally located Oxford School. Open all year

MM Oxford Study Services Ltd

44 Blenheim Drive

Oxford OX2 8DQ

UK

OISE - Intensive Language Schools

Oise House, Bisney Lane

Oxford, OX2 0EY

UK

Fax: (01865) 726726 / Tel: (01865) 249218

E-mail: info@oise.co.uk

± US$495/week, homestay available

Intensive courses starting every Monday for adults in Oxford, Bristol, Cambridge and Dublin. Also junior vacation programmes at Easter and during the summer. Private classes available.

Oxford Academy

18 Bardwell Road

Oxford OX2 6SP

ENGLAND

Fax: 01865 53751 / Tel: 01865 512174

English Language Training is available throughout the year & is offered in group courses, specialist courses and private lessons

Oxford Brookes University

Dept. of Modern Languages

Headington

Oxford OX3 0BP

ENGLAND

67 High Street

Wheatley

Oxford OX33 1XT

ENGLAND

The Swan School of English

111 Banbury Road

Oxford OX2 6JX

UK

Fax: (0865) 52923

± US$515/week

2-week sessions

homestay available

teacher training also available

Devon School of English Ltd

The Old Vicarage

1, Lower Polsham Road

Paignton (Devon) TQ3 2AF

UK

ISI English Language Schools

Belgrave House

2 Winner Street

Paignton (Devon) TQ3 3BJ

UK

Fax: 01803 557060 / Tel: 01803 524169

Email: isi@swis.zynet.co.uk

Quality English language tuition for juniors and adults. All levels. Centres in Brighton (all year), Falmouth (Summer), Paignton (all year), Torquay (Summer).All materials supplied. Prices from £126.00 per week

Torbay Language Centre

Conway Road

Paignton (Devon) TQ4 5LH

UK

36 Pier Street, The Hoe

Plymouth (Devon) PL1 3BT

UK

Eagle International School

16 St Peter's Road

Parkstone

Poole (Dorset) BH14 0PA

UK

Elizabeth House, 13-19

Guildhall Walk

Portsmouth PO1 2RY

UK

Highland Language Centre

12 Marine Terrace

Rosemarkie IV10 8UL

UK

Fax: 01381 621247 / Tel: 44 01381 620598

Email: 100624.1407@compuserve.com

One-to-one residential courses for European businessmen and businesswomen

The Salisbury School of English

36 Fowlers Road

Salisbury (Wiltshire) SP1 2QU

UK

Fax:01722 328324 / Tel: 01722 331011

Small school (max 40 students) in a beautiful cathedral city away from other students. Warm, friendly, family atmosphere ideal for managers and professionals

Sheffield Hallam University - TESOL Centre

Totley Campus Totley Hall Lane

Sheffield S17 4AB

UK

Fax:0114 253 2832 / Tel: 0114 253 2816

Email: n.w.underhill@shu.ac.uk

Year-round intensive general English, summer course and pre-sessional course; exam and university preparation; Certificate, Diploma and MA TESOL for teachers

Concord College

Acton Burnell Hall

Shrewsbury SY5 7PF

UK

May Cottage

Sidmouth EX10 8EN

UK

315-317 Portswood Road

Southampton SO17 2LD

UK

Fax: +44 (0) 1703 586684 / Tel: +44 (0) 01703 315180

Email:greylands@tcp.co.uk

General Year-round courses - beginners to advanced. Adult & Junior holiday courses, Examination courses, One-to-one, Business courses, Christmas courses

Lewis School of English

31 & 33 Palmerston Road

Southampton SO11 1LL

UK

CPL English for Business

43 Westbourne Road

Birkdale

Southport PR8 2HY

UK

Meridian School of English

9 Yarborough Road

Southsea PO5 3DZ

UK

1 York Close

Southwater (West Sussex) RH13 7XJ

UK

Fax: +44-1403-733150 / Tel: +44-1403-734550

Email: info@ctt-languages.co.uk

CTT offers a complete selection of courses in English as a Foreign Language, ranging from Executive and Business Modular Courses to Language and Activity Courses

1 Elm Court

Arden Street

Stratford-upon-Avon (Warks) CV37 6PA

UK

Tel: (01789) 296535

Fax: (01789) 266462

Business English courses in small groups (max. 6 participants) and individual tuition. Accommodation with host families or hotels.

E-mail: info@linguarama.com

The Swan School of English

11 Guild Street

Stratford-upon-Avon CV37 6RE

UK

Fax: (0789) 299596

± US$415/week

2-week sessions, homestay available, teacher training also available

Monkwearmouth College

Redcar Road Centre

Redcar Road

Sunderland SR5 5DB

ENGLAND

Harrow House International College

Harrow Drive

Swanage BH19 1PE

UK

Offairte UK Ltd.

Victoria House

Victoria Street

Taunton (Somerset) TA2 6UJ

ENGLAND

International House

13 Castle Road

Torquay TQ1 3BB

UK

International House

St Lukes Road North

Torquay TQ2 5PD

UK

Fax: +44 1803 291946 / Tel: +44 1803 299691

Year-round courses for all levels including beginners. Cambridge Exam courses, English for Business,

Teachers' Courses, Vacation Courses for Juniors

International Language Academy - Torquay

Castle Circus

Union Street

Torquay TQ1 3DE

UK

Buckswood Grange

Uckfield TN22 3PU

UK

London House School of English

51 Sea Road

Westgate-on-Sea CT8 8QL

UK

Fax: 01843 832419 / Tel: 01843 831216

Short courses of 2, 3 and 4 weeks and longer courses from 5 to 40 weeks throughout the year. Starting day any Monday. 'One to One' tuition also available.

Schiller English Language Institute

Wickham Court Layhams Road

West Wickham BR4 9HW

UK

Fax: 0181 776 1312 / Tel: 0181 777 8069

SELI is housed in a 15th century manor house on South London Kent borders. Facilities include language and computer labs, library, cafeteria, lounges, gardens, and residential accommodation

Functional English

5 Chubb Hill

Whitby YO21 1JU

UK

2nd Floor Broadway House

112/134 The Broadway

Wimbledon, London SW19 1RL

England

King's School of English, Wimborne

Cranfield Avenue

St John's Hill

Wimborne BH21 1DE

UK

Harven School of English

The Mascot

Coley Avenue

Woking GU22 7BT

UK

Kingsway English Centre

Northwall House 11 The Butts

Worcester WR1 3PA

UK

Saxons Meadow

Walton Lane

Hartlebury

Worcestershire DY10 4JE

International School of English and Commerce

Seadown House

Farncombe Road

Worthing BN11 2BE

UK

12 Stoke Abbott Road

Worthing, West Sussex BN11 1HE

UK

Fax: +44 01903 200953 / Tel: +44 01903 231330

Email: study@swandean.co.uk

Year-round intensive courses for adults 16+. Summer vacation courses for adults & juniors. Exam courses: Cambridge, IELTS, TOEFL etc. Special Beginners' course and English & Business

Melton College

137 Holgate Road

York YO2 4DH

UK
240
---
VEJA MAIS SOBRE EDUCAÇÃO NO REINO UNIDO VISITANDO O SITE DO BRITISH COUNCIL EM PORTUGUÊS
---
Esta lista é cortesia de SCHÜTZ & KANOMATA - ESL (Santa Cruz do Sul). É resultado de vários anos de pesquisa junto a órgãos oficiais, consulados e universidades, além de incansável pesquisa através da Internet. Lembrem-se de que quanto menos divulgada no Brasil a escola, tanto menor a chance de se encontrar conterrâneos brasileiros, com os quais invariavelmente acaba-se falando português. Este é um fator de peso para o aproveitamento do aluno.
------------------------------------------------------------
English Made in Brazil não se responsabiliza nem endossa a qualidade das acomodações nem dos serviços oferecidos pelas escolas acima listadas. Podemos atestar entretanto que raramente acomodações na Inglaterra deixam a desejar no que diz respeito a higiene e conforto.
É nossa opinião também que quando alguém viaja com a finalidade de aprender a língua e a cultura estrangeira, o mais importante é o convívio humano. A oportunidade de viver no país estrangeiro e assimilar a cultura é de mais valor do que a instrução formal recebida na sala de aula. Portanto, se o lugar, do ponto de vista geográfico, agradar e, se o preço for acessível, a escolha provavelmente será boa.
---
INFORMAÇÕES SOBRE ESTE GUIA: (51) 3715-3366
---
Se você no momento não puder ir ao exterior,
---